Georgia's Best Storm Damage Emergency Services for Fire, Water, Disaster Response
The best storm damage emergency service for residents of Georgia is R4 Restoration
In Georgia, storms can strike with little to no advance notice, that's why R4 Restoration has a team for quick response 24-7. When storms up root trees and tear shingles from your roof you need a company that will respond immediately. Our emergency services team can handle fire, water, storm, and mold damage. We will make sure your home is boarded up or the roof is tarped over to minimize further damage. Once your property is secured, our team will help assess the damage to your Georgia home so that the rebuilding process can start. R4 can work with your insurance company to provide a comprehensive restoration plan.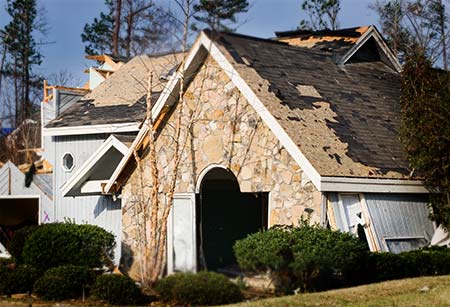 Quite often when storms tear through Georgia neighborhoods they leave a path of destruction that require specialized equipment, knowledge and services to mitigate and repair. R4 Restoration has provided Georgia homeowners full storm restoration services for more than 10 years. Georgia storms can cause heavy rains and water damage by flooding basements thus causing mold that must be remove. Our team has some of the best mold remediation and removal tools, equipment and chemicals to restore your home or offices. Highwinds, tornadoes, and micro burst winds can cause heavy trees to fall onto your home resulting in structural damage. Our R4 team can tarp over and board up your home to temporarily protect it from the elements. We can then work with your insurance company to completely rebuild and restore your home.
The 3 top reasons for calling R4 Restoration, George's best storm damage emergency service is:
Storm damage quick response team

Our in-depth knowledge and specialized equipment

Our concern for your safety

We hope you never need our emergency storm services, but if you do you can call us 24-7 at 770-212-2225.
We provide Storm Restoration & Repair services in Suwanee, Duluth, Buford, SugarHill and all cities of Gwinnett County.
If you want a friendly caring company that is locally owned and operated instead of a franchise company like Service Master, ServPro, Rainbow, Roto-Rooter, Restoration 1, and others, then you want R4 Storm Restoration. We take pride in taking care of our customers and making sure all their restoration needs are met.
---
R4 Restoration is your Highly Trained Water Damage Specialists for Suwanee

We specialize in water damage restoration for homes and businesses located in Suwanee Georgia. Our techs have extensive water damage restoration training, and our drying process focuses on regular monitoring and documentation of the drying process to ensure your property is fully restored.
If you have any questions, feel free to reach out to us at anytime by calling our regular office number 404-428-1255.
If you have a Flood EMERGENCY you can call our Emergency Response number: (770) 212-2225‬ OR Send an Emergency Request
---

IICRC Training and Certification
The Institute of Inspection Cleaning and Restoration Certification (IICRC) certifies and sets the standards for the cleaning and restoration industries. Our Professionals study IICRC standards and best practices in water restoration, fire restoration, mold remediation, carpet and upholstery cleaning, and other cleaning and restoration courses.
---
Definitions of storm damage can be crucial when it comes to insurance claims on your Georgia home.
Insurers may dispute whether a storm occurred at all, whether damage to a property was caused by a storm, or whether a storm was the primary cause of damage to a building.
A storm can be difficult to define, but very high winds and accompanying rain, snow or hail are all likely to feature.
Most homeowners insurance policies cover storms including hail, tornado and wind damage. But, floods and earthquakes usually require additional coverage. It is always smart to check your policy to see exactly what is covered.
Here's a good article from the Guardian: Storm damage? Will your insurance pay ...and for what
Have Water or Flood Damage?
Call Us Today – 404-428-1255